If you are a fan of the Spaghetti Junction Boys podcast, it could be for a variety of things. Maybe you love cheap laughs. Maybe you love lively debates on live animal mascot fights and sandwich delicatessens. Or maybe, just maybe it's because you love making money.
So far this year, the Gamblin' Dans have been en fuego a la Dan Patrick. Ben is a scolding 10-0 the last two weeks, and 12-3 on the year, going 3-0 in Whammy multi-unit picks. Doc is 13-8 as of this publication, and 3-1 with his Whammy picks. Ricky is 2-2 with a postponement and a couple of idle weeks, but he's back with a vengeance. Yours truly, Michael "Hide ya kids, Hide ya bookie" Quirk is currently 13-7-1 and 4-0 on Whammies. That's four like the career jersey number of Brett Favre and zero like the number of people who wanted to see the picture he sent Jenn Sterger.
So, you can always listen to our picks on the podcast first to ensure you get the best lines possible locked in. We also post the picks on Instagram (@spaghettijunctionboys) and on Twitter (@sjbatlanta) for your viewing pleasure. In case you're looking for a third avenue, or to hear a little method behind the madness, I am going to begin posting my picks here under a new weekly issue I like to call Quirken Loans Gamblin' Corner. Without further ado, here are my picks this week.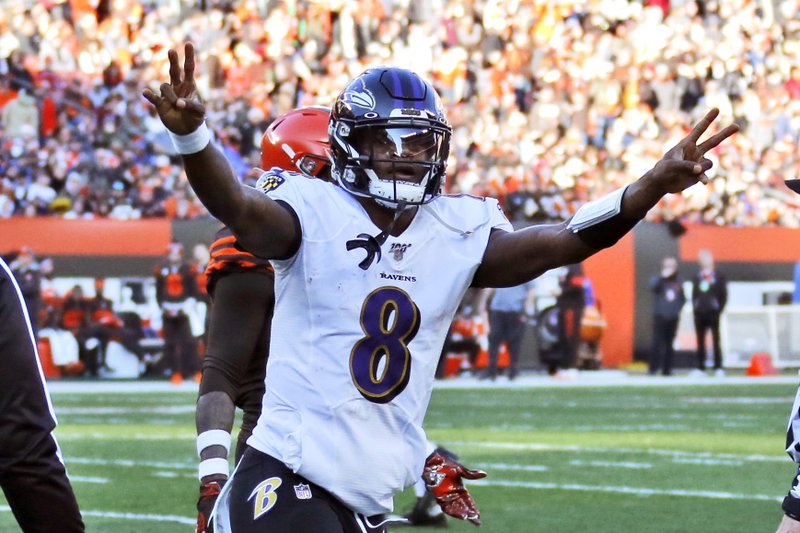 Baltimore Ravens -13 vs. Cincinnati Bengals
1:00 Sunday October 11
The Bengals have been playing OK football so far this year, coming in at 1-2-1 fresh off a win over the Jacksonville Jaguars. Rookie quarterback Joe Burrow has looked like the future for the franchise, which is exciting news for Skyline Chili fans. Unfortunately for you bean-cheese-soup-living-on-the-fringe-of-society weirdos, the future is not the present.
The present is Lamar Jackson and the Ravens' offense. Baltimore is 3-1 this year SU, winning their three games by an average of 21 points, with all three coming by at least 14. Last time they played, Edgar Allen Poe's crew of flunkies demolished the Bengals 49-13. I don't foresee that happening once again, but if you're going to tell me Jackson doesn't win this by two touchdowns, you're batty. Give me the purple birds, BIG.
Oklahoma/Texas O72
Noon Saturday October 10
The Red River Rivalry pairs The University of Texas and the state university of the state that's basically Texas, Oklahoma. Poor FOX, man. Those guys thought they were getting a whale in this game as both teams entered the season ranked in the Top 10 and serious contenders for the College Football Playoff. Instead, they landed one of those fish with the jagged teeth and the ashy scales.
Texas dropped 59 in their opener against UTEP before escaping Texas Tech with a 63-56 overtime win. Last week, the ceiling fell in a bit after a loss to unranked TCU 33-31. Meanwhile, if Texas's ceiling fell in, then Oklahoma is officially deemed unlivable conditions. The Sooners hammered Missouri State in the opener 48-0 before blowing leads to Kansas State and Iowa State, now 1-2 overall and 0-2 in the Big 12. Yikes.
I don't know who is going to win, and for the sake of this bet, I don't care. What I do know is Sam Ehlinger is averaging almost five touchdown passes per game for the Longhorns, and Lincoln Riley just doesn't have dud offensive games. This series has averaged 74.3 points per game each of the last four years, and this should live in the 80s or 90s again today. Everything is bigger in Texas, even the defensive disappointment. Bet on points in Dallas today.
Tulane/Houston O59
This game kicked off on Thursday and wrapped up with 80 points. The over hit in the damn third quarter. If you didn't pick it in time, then you should've listened to the show. Papa Mike was giving out winners EARLY.
Ole Miss/Alabama O67.5
Saturday October 10 7:30
This was such a delicious line as the betting public absolutely has to hammer Ole Miss overs before the lines start getting adjusted. That defense is just horrific, surrendering 600 yards of passing in Week 1 to Florida and 400 yards on the ground in Week 2 to Kentucky. Conversely, the offense is an absolute unit as quarter Matt Corral leads all passers nationally in Total QBR with receiver Elijah Moore already notching 20 catches in just two games, and a stable of running backs to balance it out.
Meanwhile, the Tide can score the ball at a big rate. They are loaded at just about everywhere, amassing 90 points in their two games thus far. The last five of the series saw Ole Miss win 43-37 in 2015, before Alabama reeled off four-straight by scores of 48-43, 66-3, 62-7, and 59-31. That's a lot of points, and this year calls for even more.
The only caveat to this bet is Hurricane Delta humming into Oxford. Call Megan Thee Stallion and Cardi B because it's going to be a Wet Ass Oxford. I still like the Over, as not even an Act of God can help the Rebel defense this year.
WHAMMY: Army -28.5
Saturday October 10 1:30
I feel like sirens should be going off, slot machines dinging and pouring out chips, and angels singing from the heavens. I have been electric city on whammies this year and this is the winner of winners. I respect the troops, I love the troops, and I am absolutely betting on the troops.
Sorry, Citadel, but you stink. I love your city, I love your colors, I love your inbred dog mascot, but I don't love the looks of that football team. Citadel (0-3) lost to Eastern Kentucky last week by 23 points. Bad, right? What's worse, is EKU lost their first two games by a COMBINED 105 points.
No. 1 Clemson was up 49-0 on the Bulldogs at half the week before. Then, I guess Dabo Swinney left and put in Khalil Greene and Elden Campbell. Their first loss? South Florida, who like EKU, is 1-2 on the year. The Bulls beat Citadel by 21, while losing their other two games by a combined 73.
Enter the guys from Army, who are 3-1 with their lone loss coming on the road at current-No. 11 Cincinnati by 14. Army's three wins? By an average of 34.7 points. They also run a similar offense to Citadel, so nothing is going to catch them by surprise in this one, and it'll be better players and better coaches running the same thing right at the Bulldogs. I'm going to bet my house on this pick and then go out and buy a big, damn Support the Troops sticker and smack it on my bumper. Support the Troops, support this pick, Army in this one, BIG.
There you have it, folks. One winner already and four more in store. Go forth and bet. Stay greedy, my friends.